Vacant Chicago Building Becomes Eye-Catching Louis Vuitton Pop-Up Location
California company Brixen & Sons executed the project in an impressive three days.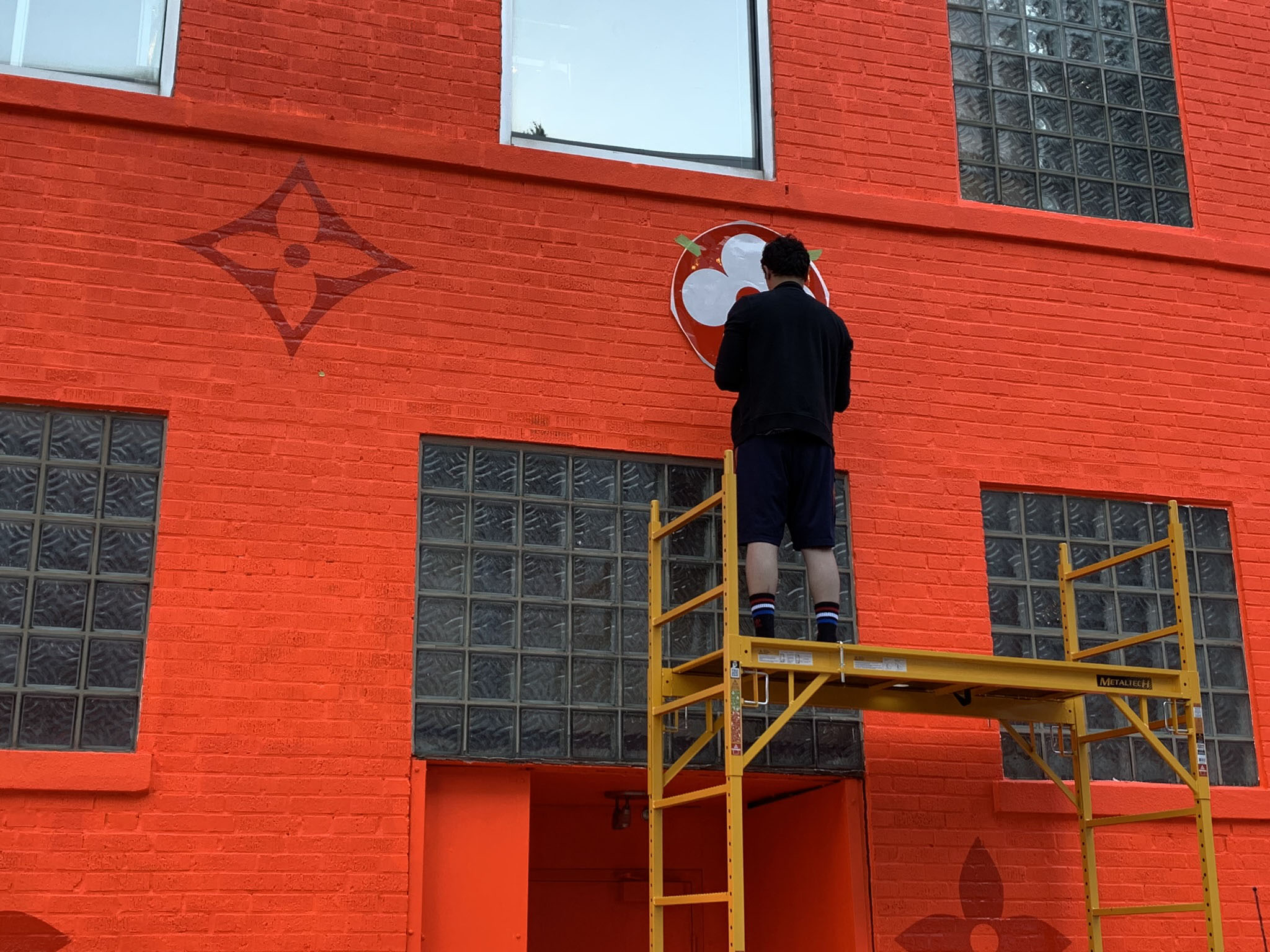 Brixen & Sons (brixen.com), a PSP based in Santa Ana, California, was asked to turn a vacant building in Chicago into an eye-catching pop-up location for the launch of Virgil Abloh's Fall/Winter 2019 Louis Vuitton Men's Collection. It was a fluid, expansive project that started with an original request to install designs on a large interior brick wall. Louis Vuitton liked it so much they asked the shop to decorate the entire outside of the building with only three days remaining before the event.
In order to make this happen, the exterior of the building needed to be expeditiously painted fluorescent orange while Brixen & Sons produced more vinyl monograms at their headquarters in California. The late-breaking request required Corey Brixen, owner of Brixen & Sons, to personally fly to Chicago and hand deliver the monograms to help the crew finish the exterior of the building during the final two days of installation.
Here's the kicker: all of the graphic elements were screen printed with a color that Brixen & Sons created in their shop using Nazdar 3600 Series UV Screen Ink with fluorescent DayGlo orange powder pigment added. They flood coated 54- by 118-inch sheets of 3M's IJ8624 Scotchcal graphic film for textured surfaces on an M&R Processor II E inline screen press and laminated them with 3M 8524 Scotchcal Luster overlaminate. Finally, they kiss-cut all the different shapes on a Zünd G3 digital cutter. A paper masking was done on each large kiss-cut sheet; the pieces were then cut apart by hand for packing and shipping.
The actual installation was done by a three-person crew using heat guns, propane torches, and a lot of creative elbow grease. They completed the entire project in just four days, and the event was a huge success.
SPONSORED VIDEO
Watch Jay Busselle, Adrienne Palmer, and Jeremy Picker dive deep into DTG printing data, popular styles, and opportunities.
Apparel Decoration Trends for 2021 Part Two
Jay Busselle, marketing director, Equipment Zone, interviews two experts in apparel decoration trends: Adrienne Palmer, editor-in-chief of Screen Printing magazine, and Jeremy Picker, creative director and CEO of AMB3R Creative and Screen Printing Editorial Advisory Board member. Both share their insights on decoration trends, apparel styles, and some powerful data for DTG printing. Plus, Picker gives an exclusive look at his 2021 trend report. This is a follow-up webinar to Equipment Zone's DTG Training Academy virtual event.