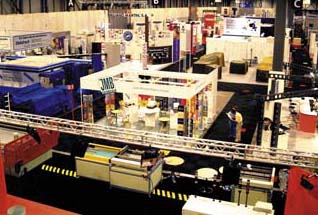 For screen exposure, M&R Sales and Service presented it's new Tri-Light multi-spectrum exposure system, which is capable of exposing two screens simultaneously. The exposure unit works in conjunction with the company's new Double Tri-Loc registration system, ensuring correct registration between separations at each stage of production.
Screen printing and finishing
Several exhibitors at FESPA 2002 showed conventional screen-printing and finishing equipment with some unconventional new features and capabilities. One such system was the new Thieme Clean Print system, which is designed for conductive-ink printing companies that must get ink coverage to the verge of edges, holes, and other openings where electrical connections will be made. This causes excess ink to remain in screen openings after each print cycle and leads to loss of edge definition in subsequent prints. To overcome this problem, the Clean Print system prints on absorbent, roll-fed paper between each product printing cycle, which removes the residual ink. The system comes as a semiautomatic press with a shuttling table for products and an intermediate table that is used for the paper-printing cycle. It is also offered in a configuration suitable for fully automatic production lines.
Siasprint Group introduced its New Multiformula multicolor inline printing system. It features a patent pending squeegee/floodbar assembly and scanning UV-curing stations with 180° rotating reflectors, adjustable speed, and adjustable scan length. Driven by servo motors, the system is microprocessor controlled and features easy-to-use operating software.
The new servo-driven Maestro 1025D cylinder press from Sakurai features remote screen positioning, a print elongation corrector, and prints speeds of 200-2000 sheets/hr. The company also introduced a new large-format cylinder press, the model SC142AX. It offers dual-mode sheet delivery, supporting thin substrates as well as materials up to 0.12 in. (3 mm) thick. It provides printing speeds of 800-2000 sheets/hr.
Advertisement
Argon demonstrated three automatic printing modules that can be used alone or inline. The first is a conventional flatbed screen-printing station. The second is an ink-fed squeegee system that prints on-contact with the screen and substrate, releasing ink in response to air pressure. The manufacturer says it provides precise control of ink deposit and reduced ink waste. Finally, the company presented its Digital Squeegee module, which features a wide array of HP printheads arranged across the print area. It is designed for customizing standard screen prints with sequential numbering or other elements.
Preco demonstrated its new MTS-3024 roll-to-roll screen printer and Preco ConvertaForm film insert forming system for in-mold decorating (IMD) during FESPA 2002. Designed for printing tight-tolerance industrial applications, the MTS-3024 features a patented three-axis camera registration system to provide ±0.0015-in. (0.038-mm) registration accuracy. The ConvertaForm ensures proper print-to-part alignment by also utilizing three-axis registration with accuracy of ±0.004 in. (0.01mm).
Drying equipment producer Natgraph grabbed attention with its massive screen-drying cabinet. The vertical unit will hold 10 screen frames, each measuring 12 x 8 ft (3.7 x 2.4 m). The company also presented it Air Force UV/IR Combination dryers, which provide 390°F (200°C) air drying, medium-wave infra-red, and high output UV drying, all in a single unit. Additionally, visitors saw Natgraph's PLC-control systems for industrial dryers, providing data logging and feedback on all the control parameters to ensure consistent of output, reduce waste, and maximize efficiency. Data can be output via a port to a PC. A variable-output, medium-wave flash-curing system that can be interfaced with automatic printing systems or operated by proximity sensor was also shown.
For garment printers, MHM presented its upgraded Synchroprint 3000 with a sophisticated new control system that offers a user-friendly touch screen. The panel allows quick programming of printing parameters, as well as storage and recall of previous job settings. The controller can be linked to MHM's head office for remote troubleshooting. M&R showed economical options for garment printers, such as its new Sportsman, a low-cost automatic press that incorporates many of the features found on more expensive models. The company also showed its Economax II, a space-saving electric textile dryer.
Finally, Unitex presented its new VeeGee line of squeegees. The new blade material provides good resistance to swelling when used with UV and solvent-based inks, and long-lasting edges due to an abrasion-resistant polyure-thane formulation.
Digital imaging
Advertisement
For digital printing, FESPA proved that flat is where it's at. Ten manufacturers unveiled there interpretations of flat-bed inkjet printing technology. Here's a brief rundown of the systems and their features:
Encad At FESPA, Encad showed its entry into the flatbed fray–the NovaJet 880. The dual-function thermal ink-jet printer allows printing of roll-to-roll stock, and with a flatbed table accessory, on rigid stock up to 1/2 in. (13 mm) thick. A thermal drying unit that piggy backs the printer is available for drying prints produced on rigid media. The 600-dpi machine prints up to eight colors and reaches speeds of 41-132 sq ft/hr (4-12 sq m/hr), depending on print mode selected.
L & P Digital Technolgies Leggett & Platt's Virtu flatbed made its first appearance before a screen-printing audience during the FESPA show. The four-color printer (six-color also available), 360-dpi machine prints and cures UV inks onto a wide range of uncoated media, both rigid and flexible. Three models are offered, the MT for roll-to-roll printing up to 98 in. (2490 mm) wide, the RS for roll-to-roll and rigid printing up to 98 in. wide, and the TX for roll-to-roll and rigid printing up to 138 in. (3500 mm) wide. L&P says each model has a top printing speed of 2250 sq ft/hr (210 sq m/hr)
MacDermid ColorSpan Similar to the Encad flatbed, MacDermid Colorspan's new DisplayMaker esprit is an eight-color thermal inkjet that supports both roll-to-roll and rigid sheet printing. Offered in 52-in. (132-cm) and 62-in. (157 cm) models, the esprit handles rigid stock up to 0.125 in. (3.175 mm) thick. It has a speed range of approximately 55-160 sq ft/hr (5-15 sq m/hr).

SPONSORED VIDEO
Let's Talk About It
Creating a More Diverse and Inclusive Screen Printing Industry
LET'S TALK About It: Part 3 discusses how four screen printers have employed people with disabilities, why you should consider doing the same, the resources that are available, and more. Watch the live webinar, held August 16, moderated by Adrienne Palmer, editor-in-chief, Screen Printing magazine, with panelists Ali Banholzer, Amber Massey, Ryan Moor, and Jed Seifert. The multi-part series is hosted exclusively by ROQ.US and U.N.I.T.E Together. Let's Talk About It: Part 1 focused on Black, female screen printers and can be watched here; Part 2 focused on the LGBTQ+ community and can be watched here.