Highlights from SGIA 2003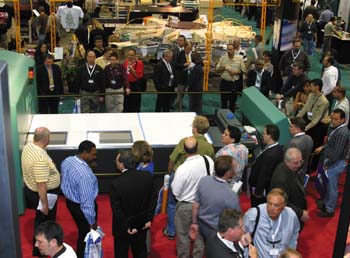 The positive turnout for this year's SGIA show mirrored the improving health of the economy. An estimated 12,400 visitors attended the annual convention and exposition of the Specialty Graphic Imaging Association Int'l (SGIA), which was held in conjunction with the Digital Printing and Imaging Association (DPI) Conference at the Georgia World Congress Center in Atlanta, GA, from Oct. 15-18.
The show's technology focus was evident in the assortment of new printing equipment, inks, media, and other products on display by the 485 exhibitors there. New developments covered a range of imaging methods, from screen and pad printing to doming and laser engraving. But the most apparent trend on the show floor was the huge presence of new wide-format digital-printing systems for graphics applications. The following sections highlight some of the most significant product developments that greeted visitors in Atlanta.
Prepress and screen processing
The focus in prepress continues to be improving efficiency and accuracy, and a wide collection of new products was introduced at SGIA 2003 to support these goals. Among the most notable additions were tools for direct computer-to-screen (CTS) imaging.
Kammann Machines offered its K26-S CTS system, a digital exposure unit, which uses laser-imaging technology to expose precoated screens with images up 1200 dpi. The system offers registration accuracy of ± 0.025 mm, electronic file management, and angle recognition and moiré detection with automatic correction.
Advertisement
New developments in inkjet-based CTS systems included a new small-format Lüscher JetScreen system offered by Fineline. Designed for screens up to 63 x 71 in., the system features Lüscher's autofocus printhead technology to ensure accurate imaging of halftones. KIWO Digital also highlighted its distribution partnership with Lüscher and showed the new KIWO ImageJet small-format inkjet CTS imaging system, which is designed specifically for garment printers. The new CTS-XL3000 was shown by Richmond Graphic Products. It features Epson printheads and images screens at speeds up to 100 sq ft/hr in standard mode.
Screen cleaning and reclaiming also proved to be areas of continued development. Lawson presented its Poly-Pro Dip Tank designed for presoaking screens for easier cleaning. Additionally, the company showed its new AJAX-SCR automatic screen-cleaning system. The system accommodates screens up to 38 in. wide, uses three-brush mechanical abrading, and can clean 300-600 screens/shift.
Sefar America introduced Grünig's G-170 modular inline screen-cleaning system, featuring vertical nozzle oscillation. The system is available in several configurations, including the G-171 washing system, G-172 degreasing/decoating system, G-173 washing and decoating system with all-in-one chemistry, G-174 washing and coating system with individual chemistries, and G-175 developing/degreasing system.
Image Technology featured its SWR-200 Ink Washing and Reclaiming System, which includes an automatic ink-removal section and automatic emulsion-removal section. With its PLC controller, users can adjust washing cycles and times, operate ink and emulsion-removal sections independently or simultaneously, and control spray pressure up to 2500 psi.
The ImageStar line of screen-processing chemicals and equipment was highlighted by Nazdar. The line includes screen-prep compounds, screen and press washes, stencil and haze removers, and blockouts, as well as chemical-spraying systems, pressure washers, washout booths, and automatic screen-processing equipment. And ICC focused attention on its Synergy Packs, complete packages that contain screen-processing chemicals and tools for either textile or UV/solvent inks.
New stencil materials that were introduced in Atlanta include THIK Film from Saati-Chem. The capillary-film stencil system is designed for printing high-density garment graphics and other heavy-deposit applications. The film is available in several thicknesses on photobase release liner that promotes easy handling. Brazilian emulsion manufacturer Agabe presented UNIFILM 3D emulsions with high-viscosity and high solids content for producing thick stencils to print high-density garment graphics, ceramics, and electronics. Available is UNIFILM 3D for plastisol, water-based, silicone, or mineral-spirit-based inks and UNIFILM 3D-SOLV for high-density plastisol and solvent-based inks. Finally, Franklin Int'l showed PC 701 Blue SBQ Photoemulsion for textile printing, high-density printing, capillary-film replacement, and heavy-deposit printing.
Advertisement
New mesh-tensioning systems were presented by both Dynamesh and Murakami. Dynamesh launched the PS 1400 50N stretchers, with mechanical mesh stretching and pneumatic frame pretensioning and stabilization. Murakami revealed Marathon Power Stretchers with non-slip mesh clamps, single air-control valve, and pull/push cylinders, as well as optional ball-bearing casters and Safe-Track system with rails and stands.
The Model JH-59 tension meter was introduced by Systematic Automation. Rather than relying on springs, it deflects screen fabric using a stainless-steel weight and gravity, then displays the deflection with an electronic indicator. Tino Screen also showed a new tension meter that supports a range of 8-36 N/cm. Other quality-control tools featured by the company were a mesh counter for thread counts between 100-500 threads/in. and a durometer tester.
Douthitt's new show offerings include the xView color-viewing station and Sahara screen dryer. The xView features 500-Kelvin lighting, dimmer-intensity controlled lighting, and side walls for ambient-light reduction. The Sahara dryer features uniform air flow and heat, stainless-steel racks, thermostatically controlled temperature, and welded construction.
Finally, Eino Products displayed its line of retensionable screen-printing frames, available in standard and large-format sizes. The frames feature cross-platform compatibility, allowing the frame and parts to be integrated with other brands of bar frames.
Printing and finishing
During the SGIA show, manufacturers of graphic and industrial printing and finishing equipment revealed the results of their most recent R&D efforts. The attention at M&R's booth was on two new multicolor inline graphics presses: The Insignia and Processor II E. The Insignia is a carousel UV graphics press with six printheads and intermediate curing that supports images up to 30 x 40 in. on the largest model and features front screen loading, pneumatic squeegee clamps, easy-access printheads, and bi-directional rotation. Available with up to six print stations, the Processor II E is a modular, inline, multicolor UV press that features a camera-based monitoring system for each print station, touchscreen controls, storage and recall of job settings, and zoned vacuum tables.
Advertisement
At Thieme, highlights were advances to the Thieme 5000 Multicolor line, including a new camera registration system. The company also expanded its line of flat- and automotive-glass printing equipment with a range of part-transport and collection mechanisms. Among them was an automatic prealignment system for irregular glass parts.
AWT's exhibit included the Accu-Print HIGH-TECH V-LS long-stroke screen press with pneumatic squeegee-pressure equalizer, four-point off-contact control, tool-free squeegee/floodbar pressure adjustment, patented computer-controlled stroke setting, and maximum print size of 38 x 80 in. The company also promoted the upgraded American M&M Hercules carousel multicolor graphics press, available with up to seven print stations and intermediate UV curing.
The ColorGrip line of 3/4-automatic four-post flatbed presses was among the products highlighted by Interchange Equipment. The large-format machines feature a redesigned high-strength gripper bar that allows for rapid acceleration and deceleration and cycle speeds of 800-1200 prints/hr, depending on the model.
Fineline presented information about the Klemm Derby L Kombi line, a web-label press that can be quickly changed from rotary flexographic to screen-printing configurations and supports continuous operation with an intermittent takeup device. The Argon HT large-format, multicolor, inline belt printer was also promoted.
The upgraded Multiformula multicolor, inline, UV graphics press was shown by Siasprint USA. A modular system with a maximum print area of 65 x 128 in., the Multiformula offers a patented automatic gripper registration system, 180° rotating UV reflectors, touchscreen control with job storage/recall, and remote diagnostics via modem.
Several presses were displayed by ATMA, including the ATMACE series machines with servo-drive motors, digital squeegee-pressure equalizer, digital control panel, and job storage and recall. Dorn SPE represented Sakurai's MAESTRO SD-102A, a servo-driven cylinder press that prints 200-2000 impressions/hr. And Graphics Int'l Group had the new Omso Novax M, an automatic container printer with support for up to eight colors and printing speed up to 6000 pieces/hr.
For UV curing, American Ultraviolet Company showed its Mighty Spot system with 400-watt solid-state power supply, elapsed-time indicator, metal-halide bulb, and optional dichroic reflectors. Also presented was the Ultra-Cool Conveyorized Curing System, which maintains 93°F substrate temp and features dual lamps with individual settings of 150, 200, 300 watts/in.
Ancillary tools and supplies for screen printing were shown by several manufacturers. Fimor debuted its new serilor HR2 dual-durometer squeegee blades and HR5 five-layer multidurometer blades. The company also highlighted new inkjet markings appearing on blade materials to make material identification and selection more easy. Unitex featured its Unitex Moulded Squeegee (UMS) that includes a durable outer coating for maximum resistance to solvents and chemicals.
New equipment and supplies for pad printing also were evident in Atlanta. Pad Print Machinery of Vermont showed the Comec Inkprint XE-13 and XP-13 with support for up to five colors. Both models feature 150 x 300-mm cliche dimensions, a 130-mm closed inkcup, 115-mm max print area, 320-mm horizontal print stroke, and 125-mm vertical print stroke.
Tampoprint presented the Concentra 90-4, a four-color pad press that features PLC controls and individual pad-stroke settings. It supports print speeds up to 800 cycles/hr with three or four colors, 900 cycles/hr with two colors, and 2000 cycles/hr with one color.
For finishing operations, Preco showcased its FlexPRO Digital Laser Processing System, an industrial-based laser cutter suitable for membrane-switch applications and digitally printed graphics. The optically registered M500 Wide Format Die Cutting System was unveiled by Spartanics for tight tolerance cutting applications. And Colter & Peterson presented the microcut system, which automates backgauging on any paper cutter.
Digital imaging
For those interested in wide-format digital-imaging technology, SGIA 2003 did not disappoint–suppliers of digital-printing systems filled nearly half of the exhibition hall. Below is a rundown of the most significant new machines introduced at the show.
Flatbed inkjet technology continued to be a focal point for screen printers. Durst presented the upgraded Durst Rho 160 Plus, an industrial flatbed inkjet that uses UV inks to print graphics on rigid or flexible substrates up to 62 in. wide at speeds up to 850 sq ft/hr. In Atlanta, the machine was shown with Durst's new feeder/stacker units, which automatically load and unload rigid printing panels to and from the printer for improved throughput. In a related announcement, Coates Screen was named the exclusive distributor of the Rho 160 for the US screen-printing market.
Visitors saw the new Inca Columbia UV flatbed inkjet at the Sericol booth (Sericol manufactures the Uvijet inks used in the printer). Sold exclusively through Sericol in the US, the Columbia is Inca Digital's largest flatbed inkjet printer with a 126 x 63-in. print area, maximum print resolution of 800 x 1200 dpi, and throughput of more than 1300 sq ft/hr on substrates up to 1.6 in. thick.
Océ unveiled the new Océ Arizona T220UV flatbed inkjet. The machine uses UV-curable inks to produce outdoor-durable graphics directly on rigid and flexible substrates up to 62 x 120 in. and 2 in. thick. The T220UV holds substrates stationary on a flat vacuum table while the printhead assembly moves across the table to create the image at a maximum apparent resolution of 600 dpi and top speed of 170 sq ft/hr.
The commercial version of the NUR Tempo flatbed UV inkjet printer made its appearance during the show. It provides 360- dpi resolution (720 dpi apparent) and supports rigid materials up to 10.5 x 6.5 ft and 2 in. thick, as well as flexible roll substrates up to 7.2 ft wide. The printer offers a four-color printing mode for high productivity and an eight-color mode for photorealistic quality.
Also during SGIA 2003, 3M announced a new ink system for its 3M Printer 2500UV flatbed inkjet printer. The new 3M Piezo Ink Jet Series 2600UV inks are specially formulated to remain flexible after curing, allowing graphics printed with them to conform to compound curves, including rivets and corrugation. Finished graphics produced with the inks are warranted for five years outdoors.
The attention-getter in the VUTEk area was the UltraVu 150, billed as an entry-level production-grade inkjet printer. The solvent-based piezo printer offers 360-dpi addressable resolution (720 apparent) and prints on uncoated flexible media up to 60 in. wide. It is offered in both four-color (CMYK) and six-color (CMYKLcLm) models with a maximum print speed of 430 sq ft/hr.
Among the products highlighted by Scitex Vision was the Scitex TurboJet, a drum-based solvent inkjet printer that prints from roll to sheet on a variety of uncoated flexible materials at speeds approaching 4400 sq ft/hr. The printer uses Hitachi printheads to deliver resolution of 448 dpi on graphics as large as 64 x 144 in. Two models are available: a "Classic" version featuring six standard colors (CMYKCM) or a "Supreme" version with an expanded-gamut inkset (CMYKLcLm).
The news at Matan's booth was its introduction of the TeckJet line of wide-format inkjet printers. Using solvent-based pigmented inks, the printers image directly onto a wide range of media with a maximum resolution of 360 x 360 dpi. Two models are offered: The Teckjet 2500 and 1800, with print widths of 98 and 70 in. respectively. They can be ordered as CMYK printers or six-color CMYKLcLm machines with a maximum output speed of 300 sq ft/ hr.
Roland showed the Soljet Pro II EX series printer in 54- and 74-in. widths. The machines print up to 300 sq ft/hr at 450 dpi and have a maximum true resolution of 1400 x 1400 dpi. They use Eco-SOL inks to provide graphics with three-year outdoor durability onto uncoated media. The 54-in. model 540 EX is equipped with an onboard contour cutting system. Also shown was the VersaCAMM SP-300 for printing onto uncoated media. It includes an integrated contour cutter.
Other new mid-range inkjets included the UJV-110 UV and UJF-605C inkjet printers from Mimaki, which output UV inks–including white inks–onto various untreated materials. The UJF-605C is a flatbed model that supports rigid substrates up to 23.4 x 19.5 in. and 1.95 in. thick. And for direct printing on T-shirts, the company introduced the GP-604 and GP-1810 inkjet plotters, which print acid dye, reactive dye, disperse dye, or textile pigmented inks.
Mutoh showed the Toucan Hybrid six-color solvent flatbed/roll-to-roll inkjet, which accommodates both flexible substrates and uncoated rigid materials up to 3.5 in. thick and 64 in. wide with printing speeds up to 750 sq ft/hr. Also shown was the Falcon II Outdoor, available in widths of 63 and 86 in. The machine uses Eco-Solvent inks to print onto uncoated media at speeds up to 375 sq ft/hr in either four (CMYK) or six colors (CMYKLcLm).
The focal points of the MacDermid ColorSpan booth were the new DisplayMaker 72s "Gator" and DisplayMaker 110s. Both systems use SolaChrome solvent inks to produce outdoor-durable displays on uncoated media. The 72s supports media up to 73 in. wide, offers 600 x 600-dpi resolution, and has a max print speed of 400 sq ft. hr; the 100s has a 98-in. print width, max resolution of 360 dpi, and top speed of 1000 sq ft /hr.
Other new inkjets from market leaders included Encad's VinylJet 36, a 36-in.-wide machine that prints directly on vinyl with AquaVinyl water-based inks. The IP-4500 MK2 from Seiko/Infotech uses six-color (CMYKLcLm) oil-based pigmented inks and supports 720-dpi output on media up to 54 in. wide. Maximum print speed is 422 sq ft/hr. Finally, Western Graphtec showed its Master Jet JW1000 printer, which supports both CAD/GIS drawings and large-format graphics.
Besides presenting the familiar names among digital-printer vendors, SGIA 2003 also served as a showcase for new Asian printer manufacturers seeking to enter the US market. These manufacturers and their products are listed below:
* Aeromatrix–PosterJet solvent inkjet with 126-in. media width and top output speed of 1450 sq ft./hr.; Infiniti FY 6150 solvent inkjet with 61-in. width and 400-dpi max resolution; and Infiniti FY 6250SL solvent inkjet with 72-, 100-, and 125-in. media width and 720-dpi max resolution.
* Azero–Creon Jet 8250 flatbed/roll-to-roll printer featuring UV-curable inks (including white) and support for rigid substrates up to 4 in. thick. An optional onboard laser cutter also is offered.
* Digital Graphics Inc./Sign USA–Omegajet REX-62 with 200-dpi resolution and max throughput of 130 sq ft/hr on roll and sheet media; AceJet series in models with 92- and 62-in. widths that offer resolution up to 400 x 200 dpi; VT-100D printer with auto printhead cleaning, onboard dryer and 400 x 200-dpi max resolution; VTII models with 92- and 62-in. media widths for printing roll or sheet media with image resolution up to 400 dpi; and Vistajet 92 with a 92-in. print width and auto ink-refill system.
* Eastech–UV6400 flatbed UV inkjet with up to eight colors (CMYKLcLmOG or 2 x CYMK), max media width of 65 in., and top resolution of 1440 x 720 dpi; IO6400 (65-in.) and IO 8700 (88-in.) solvent inkjets with up to eight colors and optional 20.3-GB onboard hard drive.
* Innovative Solutions–ISIJET 2870 solvent- based CMYK printer with resolution up to 360 dpi, auto printhead purging, and roll-to-roll media support (roll-to-sheet printing feature is optional).
* Keundo Technology–SupraQ 2600S solvent inkjet that supports media widths up to 102 in. and can run in roll-to-roll, roll-to-sheet, sheet-to-sheet, and flatbed configurations. It offers 406- or 812-dpi resolution and a top print speed of nearly 560 sq ft/hr.
* Shenzhen Runtianshi Image Technology–CMYK solvent inkjets including FLORA-2508 (max resolution 720 dpi, max speed 969 sq ft/hr) and FLORA-2508S (max resolution 400 dpi, max speed 1076 sq ft/hr), both of which support flexible media up to 98 in. wide; FLORA-3204 with 360-dpi max resolution and top print speed of 1292 sq ft/hr on media up to 126 in. wide.
* SKYJET America–SKYJET 2608 Little Fairy with 740-dpi max resolution on media up to 98 in. wide using pigmented solvent-based ink; Skyjet 3324 solvent inkjet supports media up to 130 in. wide and delivers 740-dpi resolution; and Skyjet Multifunction Digital Flatbed Printer that prints rigid media up to 2.5 cm thick at speeds up 120 sq ft/hr with oil, solvent, or UV inks.
Media and substrates
The growing range of available printing equipment shown at the SGIA show was matched with an equally expanded collection of media and substrates for graphic and industrial applications. 3M introduced Controltac Plus Changeable Graphics films with Comply Performance for short-term promotions. The 2-mil films come in series for electrostatic printing, piezo inkjet printing, and screen printing. Also shown was 3M Scotchlite Intermediate Reflective Graphic Film Series 5100R for aluminum, paint, and other vehicle surfaces. The white film can be printed with a variety of imaging methods and is removable for up to three years. 3M's VirtuPrint line of fabrics also was introduced for use with the Scotchprint Printer 2000 electrostatic printer and 3M Printer 2500UV flatbed UV inkjet printer.
New products shown by Avery Graphics included several films that now feature the company's Easy Apply Technology, including IPM 2000 EZ matte calendered graphics film, MPI 2003 EZ calendered graphics film, and MX 4001 EZ PRo calendered film for flat-panel fleet applications. MPI 1007 EZ Satin, a premium opaque pressure-sensitive graphics film for fleet and corporate identification also was on display.
FLEXcon presented CV 800 Clear and White TC-614 PFW NS topcoated cling-vinyl films. Also highlighted were FLEXmark BILBRD BWV 4-mil, bright-white, opaque vinyl with an aggressive, high-tack acrylic adhesive; RAILmark 4-mil, white, opaque vinyl designed for subway and rail advertising; and SWITCHmark LX 3-1-2 film for bonding silicone rubber keypads to membrane switches.
An expanded Magic media line was shown by InteliCoat. New products included GFPHOTOSIJ glossy photorealistic paper and GFVSF/SIJ 9-mil banner media for solvent inkjet printers; a range of paper, photobase, fine-art, and canvas media for Epson printers; and fabric-banner products, such as LOTAK-7, FAB-6, and 12 other materials.
At MACtac's booth, visitors saw the company's new IMAGin JT5000 Series adhesive-backed vinyl films for wide-format solvent inkjet printers, offered in both matte and gloss versions. Also on display was MACcast 6600 cast vinyl film for computer-aided-signage (CAS) applications requiring outdoor durability up to eight years. MAClite 5700 reflective vinyl film also was added for CAS users. Other new products included MACtac's PermFlex IP9000 polyester rigid backing film for rollable displays and PermaTrans IP4000 mounting adhesive for lenticular displays.
Finally, Verseidag Seemee unveiled its new Seemee Flex 13-oz laminate for billboard and banner applications. The company also introduced three new fabrics for inkjet printers using solvent-based inks.
Inks and coatings
Several new specialty inks for graphic, industrial, and garment printing were unveiled at the show. Nazdar debuted its VersaPrint Multipurpose P-O-P ink series for use on a broad range of substrates commonly employed in P-O-P displays, as well as NDI 800 Series digital inks for use on Scitex printers. Additionally, Nazdar announced a new strategic distribution partnership that it has formed with French UV inkmaker Encres Dubuit.
Coates Screen's new ink products included a range of UV formulations for industrial applications. One was DecoMold Ultrabond, Series DMU, a patented ink for in-mold decorating that does not require an adhesion promoter. The company's MTG 3 Pack is a UV ink made of three components that users can blend in varying combinations to obtain matte, textured, or gloss finishes. And UV Window (WIN Series) inks are dye inks used for creating colored transparent windows in graphic overlays. The reformulated version of the company's REV Series multipurpose inks also was introduced.
From Nor-Cote came NBW, a UV-curable backing white, a fast-curing opaque ink that is resistant to blocking and adhesives. New PPC Series UV Poly-Plastic Container inks are one-part inks that are resistant to chemicals and can be printed without additives. And LC3000, a silicone-free white UV ink, was added for rotary screen-printing applications.
Rad-Cure featured RAD-KOTE 101SPMT, a UV matte-textured coating for rotary or flat screen printing on paper and plastics. The highlight at Kolorcure's booth was Mirror Cure Silver, a metallic silver UV ink for polyester, vinyl, polycarbonate, and more. And Color FX modified its current line of graphic inks with the addition of a line for credit-card printing.
For pad printers, Marabu featured TPL Tampaplus ink for closed-cup presses, an ink that is suitable for printing onto ABS, polystyrene, rigid PVC, acrylic glass (PMMA), polycarbonate, polyester, and more. Also new was Tampacure TPC UV ink for pad printing.
On the garment side, QCM Textile Inks debuted XOLB-158 Creamy Glacier White,a high-opacity plastisol with a soft hand that is suited for printing onto 50/50-cotton/poly blends, 100% cotton, and fleece. Lancer enhanced its Excalibur 835 High-Density Super Clear ink to create expanded special-effect applications on textiles, including a "stone" effect. At the Wilflex/Polyone booth, visitors saw Sculpture Base 10650SCP ink for creating a high-density stacked effect, Frost Base 1095FB for a frost-like effect, Cork Base 18000CB for creating a cork-like texture, and Fashion Pearl Base 10900FB for creating texture and shimmer together.
Rutland's product highlights included Glitter Base for large-flake glitter effects, American White plastisol for for printing on nylon mesh, and Miracle White, a fast-flashing white for 50/50-cotton blends. And Union Ink rounded out the new garment-ink offerings with EZ Print White plastisol for cotton garments and Stardust (STAR) for printing on dark-colored garments and underbases.
Other ink-related products visitors saw at SGIA 2003 included the Model GPH 2.5 ink dispenser from Systematic Automation. The fully automatic and programmable system can be used to dispense inks, adhesives, and other liquids directly onto the screen of screen-printing presses. And Screenprinting Products featured its Plasti-Flo plastisol ink-dispensing system, which operates on compressed air and dispenses inks from 2.5-gal containers.
On to the Twin Cities
More details about the new equipment and supplies covered here will appear in the New Products section of Screen Printing during the months ahead. Also watch for news and information about SGIA 2004, scheduled for Oct. 6-9 in Minneapolis, MN.

SPONSORED VIDEO
Watch Jay Busselle, Adrienne Palmer, and Jeremy Picker dive deep into DTG printing data, popular styles, and opportunities.
Apparel Decoration Trends for 2021 Part Two
Jay Busselle, marketing director, Equipment Zone, interviews two experts in apparel decoration trends: Adrienne Palmer, editor-in-chief of Screen Printing magazine, and Jeremy Picker, creative director and CEO of AMB3R Creative and Screen Printing Editorial Advisory Board member. Both share their insights on decoration trends, apparel styles, and some powerful data for DTG printing. Plus, Picker gives an exclusive look at his 2021 trend report. This is a follow-up webinar to Equipment Zone's DTG Training Academy virtual event.