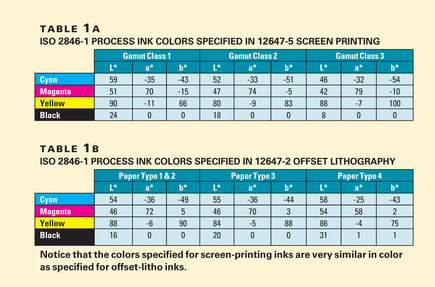 International standards exist to help individuals and companies in a vast number of industries improve the quality and consistency of their work. They also open up business opportunities on a global scale. Last month, we discussed the benefits of bringing your printing operations in line with international color standards. We'll conclude our overview of international standards for color printing this month by checking out the many standards and specifications available to printers and highlighting the ones that are most applicable to us.
ISO standards for printing
The most well known standards organization in the world is ISO, based in Geneva, Switzerland. ISO creates standards for many manufacturing industries. A brief history of ISO standards is important in our understanding of and respect for this organization.
Even the name of the organization is standardized. The name ISO is not an acronym for International Standards Organization, but was derived from the Greek word isos, meaning equal. (The relationship to standards is that if two objects meet the same standard, they should be equal.) This name eliminates any confusion that could result from the translation of International Organization for Standardization into different languages, which would lead to different acronyms.
ISO is a voluntary organization. Its members are recognized standards authorities, each one representing one country. The bulk of the work of ISO is done by the 2700 technical committees, subcommittees, and working groups. Each committee and subcommittee is headed by a secretariat from one of the member organizations. The American National Standards Institute (ANSI) is the United States representative to ISO. The ANSI ASC Z-1/ASQ Standards Group coordinates the United States representation in the ISO Technical Committees 176 and 207, which are concerned with the ISO 9000 and ISO 14000 standards, respectively.
The ISO standardization process
Each member body that has an interest in the work of a committee is entitled to be a member of that committee. Standards are reached by consensus, with each member organization representing the interests of the vendors, manufacturers, consumers, professionals, and government of its country. Each standard goes through a six-stage process before being published as an ISO standard.
1. Proposal stage The first stage is the proposal stage, in which a need for a standard is determined and members are identified who are willing to work on it.
2. Preparatory stage The standards then enter the preparatory stage, where a working draft of is developed.
3. Committee stage When the working draft is completed, it enters the committee stage and is sent out for comments until a consensus is reached. The output of this stage is the Draft International Standard (DIS).
4. Inquiry stage The DIS then enters the inquiry stage, where it is circulated among all member bodies and then voted upon. If a DIS does not receive 75% of the vote, it returns to lower stages and work on it continues.
5. Approval stage If it passes the inquiry stage, it becomes a Final Draft International Standard and enters the approval stage. During this stage, it will again circulate through all member bodies for a final vote, and again it must pass this stage with 75% of the vote.
6. Publication stage If the standard passes the approval stage, it enters the publication stage and is sent to the ISO Central Secretariat for publication.
Certain technologies change rapidly. ISO has responded by instituting a Fast Track procedure that allows a standard that has been proven in the market to enter the approval process at the inquiry stage.
ISO standards for color printing also went through the stages described above. The standards I want to call your attention to in this article are ISO 2846 for four-color-process ink colors, and ISO
12647 for print production. The reason you need to be familiar with these ISO standards is because many of the other specifications do name, or are at least linked to parts of, these standards.
These ISO standards have tolerances. That means they specify a range of deviation from the standard that is acceptable. If you are aware of what this specification is and its tolerances, you can easily document that you either are or are not in compliance. You may say you don't really care, but you should, because these standards play a role in how profitable you are.
ISO 2846
The ISO standard number for processcolor ink is ISO 2846 (Tables 1A and 1B).
The dash after the standard number indicates the process to which the standard refers. ISO 2846-1 is offset ink. ISO 2846-4 is screen-printing inks. SWOP values are measurements from a printed standard that SWOP has produced targeting these colors. GRACoL refers to ISO 2846-1 in GRACoL 7 and also in the G7 calibration methodology. SWOP says, "Proofing inks must be used that conform in color to ISO 2846-1, Graphic Technology Specifications for Colour and Transparency of Printing Ink Sets-Part1: Sheet-Fed and Heat-Set Web Offset Lithographic Printing." However, SWOP supplies ink samples that are called High and Low references. This is a good system, because colors can be measured and matched while taking out the possibility of instrumentation differences.
ISO 12647
ISO 12647 contains print specifications (Tables 2A and 2B).
A dash and a number follow the specifications for print. Sheet Fed Litho is 12647-2, Screen Printing is 12647-5, and Proofing is 12647-7. What I want you to see here is that solid ink is very similar, except when the substrate changes. Then Gamut Color reference in the screen-printing ink is based on a printer's choice to use a high- or low-density ink. Personally, I think if you are going to have a standard, have a standard and quit offering choices. This does not affect the usefulness of the standard. It just increases the confusion of what is right. It is obsolete thinking to say that we need a different appearance standard for different line counts and paper quality and then add the confusion of density choices. We can eliminate this issue by adjusting tonal values to make different line counts appear as the same color by simply adjusting the TVI (tonal value increase or dot gain) through good design and color-management capabilities available.
If the solid colors are the same, our job of standardizing appearance gets even easier. We can very easily standardize dot-color appearance today. In other words, I believe the standards for the different appearances are outdated, but the standardization of color is set and should stay the same. G7 fixed this problem and has now challenged decades of assuming that we can't adjust dot gain (TVI). G7 does not ignore international standards, but makes them work a lot better by eliminating the problems associated with having so many choices of appearance.
SWOP
Specifications for Web Offset Publications (SWOP) is probably the most accepted color specification in the world. The first version of SWOP was published in 1975. The 11th edition was published this year. Remember, SWOP is not a standard. It is a specification of a process that is also linked to the ISO standard. It points to the ink color of ISO, it specifies TVI, it certifies proofing systems, and you can purchase SWOP ICC color profiles. But again, what I want you to learn here about SWOP is that there are different specifications for different line counts and substrates that we don't need—but the specifications are linked to ISO Standards (Table 3).
Fogra
Fogra is not a standard for printing. Fogra (Forschungsgesellschaft Druck e.V.) offers specifications, among other services and products, to the printing industry. Fogra is a German-based organization, founded in 1951. Fogra states that its objective is to promote print engineering and its future-oriented technologies in the fields of research, development, and application, and to enable the printing industry to utilize the results of this activity. Fogra also targets ISO 12647 standards.
Fogra maintains its own institute, with about 50 staff members, including engineers, chemists, and physicists. Fogra has more than 600 members. About twothirds of them are graphic-art businesses operating in fields ranging from prepress to bookbinding, while the remaining third are suppliers. A third of the members are based outside of Germany.
The eight Fogra Technical Committees, responsible for various specialized topics, are a central part of the organization. In these committees, specialists from printing businesses and Fogra staff define and then study industry problems. The progress and results of their work are also discussed at the Committee meetings. Committees fulfill a creative and a monitoring function; at the same time, they characterize the work style of a collective research institute that meets the needs of the printing industry.
A very current print characterization, or what we call a profile, can be purchased from Fogra. It is called Fogra 39. Note that it references ISO standards in its description of instrumentation (ISO 13655) and print conditions (ISO 12647- 2:2004) used.
Ugra
Ugra is another specification. Ugra is the Association for the Promotion of Research in the Graphic Arts Industry. This association operates the Swiss Center of Competence for Media and Printing Technology, which took over the printing, paper, and packaging activities from EMPA, St. Gallen, Switzerland, and has been an independent organization since January 1, 2005. Ugra itself has an accreditation according to ISO 17025, and it will obtain the same accreditation for its certification according to ISO 12647 activities.
Due to the knowledge from the collaboration in the ISO standardization committees, Ugra is able to certify all kinds of services, devices, and companies. The certification is always based on the relevant ISO standards of the graphic-arts industry. Ugra issues the following certificates: Proofer, according to ISO 12647-7; Displays, according to ISO 12646; PDF/X Data Production, according to ISO 15930; and Printing, according to ISO 12647. Ugra also certifies printing and prepress companies, according to ISO 12647. Prints must fulfill the requirements of ISO 12647-2. Again, we see conformation to ISO standards.
GRACoL
General Requirements for Applications of Commercial Offset Litho, or GRACoL (thank goodness for acronyms), is also not a standard. It is a specification created by Alexandria, VA-based IDEAlliance, which evolved from the 40-year-old Graphic Communication Association. In the last two years GRACoL has launched a number of certification programs to advance the adoption of the specification. The claim is that these industrial programs serve as a Good Housekeeping Seal of Approval for consultants, training programs, and tools that support IDEAlliance specifications and best practices.
GRACoL was created to move the litho industry forward to a better color than what was possible in the sheet-fedlitho industry. IDEAlliance states that it did not attempt to create a new standard, but instead utilized and extended existing ISO Standards ISO 2846-1 (Ink) and ISO 12647-2 (Litho Printing) to meet the business requirements of its membership. The move worked well. And here again, we see a link to ISO standards. However, GRACoL still specified that different appearances are needed based on line count and substrate. We don't need these different appearances. Just give us a coated sheet and a fresh pot of coffee and we will hit whatever standard or specification you want us to hit. Please! Not so many choices!
G7
G7 is not the same thing as GRACoL 7. The G in G7 represents Gray Balance. The 7 is a symbol of the seven ink colors of ISO 2846 (CMYKRGB). The good news is there is no need for a G8, because the 7 is not a version of a specification. G7 is a calibration methodology that IDEAlliance developed to move beyond different color appearances and the obsolete thinking that we can't make different line counts and substrates appear similar in print.
G7 targets ISO 12647-2, which also specifies the use of the ISO 2846 for process-ink colors. This calibration methodology is taking the offset industry by storm because of its simplicity and effectiveness in eliminating different appearances for different line counts and substrates. IDEAlliance is promoting the G7 method as a constant component of all future print specifications and has offered it openly for adoption by all standards associations for all types of imaging or media, worldwide. Consultants can become G7 Experts through training and certification and print companies can become certified G7 Masters.
Comparing the commonality
The key point to this explanation of standards and specifications is that ISO printing specifications should not be ignored. The commonality of all these specifications and standards is that all of them are links to two international standards: ISO 2846 for ink color and ISO 12647 for printing. We also learned that there are some obsolete appearance-based specifications in these print standards, based on our ability to now adjust TVI (dot gain) to make the different line counts look the same.
This fact became very obvious to the offset industry when IDEAlliance developed the G7 calibration methodology. Remember, G7 ignores the TVI specs and adjusts the gray balance to a specific value. But also remember they still link to the ISO ink-color and print specs. Therefore, if we ignore the line count and substrate variations, we can truly have a standard that all of our print devices can meet and be in a very close appearance to other calibrated processes around the world.
The tremendous benefit G7 presents to the print industry is simplified, real-world print values that target international standards. The target values can be easily understood and measured. If you measure it, you control it. Gaining control produces predictability, predictability produces productivity, and productivity produces profitability.
Mike Ruff is chief technology officer of Nazdar Consulting Service, Shawnee, KS. During his more than 35 years in the graphicarts industry, he has worked in the signmaking and screen-printing fields as both a manager and business owner. Ruff frequently lectures at trade shows, conducts training classes for the Screen Printing Technical Foundation, and authors articles for industry journals. He is a member of the Academy of Screen Printing Technology and is a Certified G7 Color Expert.
–>