Leading Women to Discuss Leveling Printing Playing Fields
Register now for the fourth installment of the 'Let's Talk About It' webinar series on diversity and inclusivity.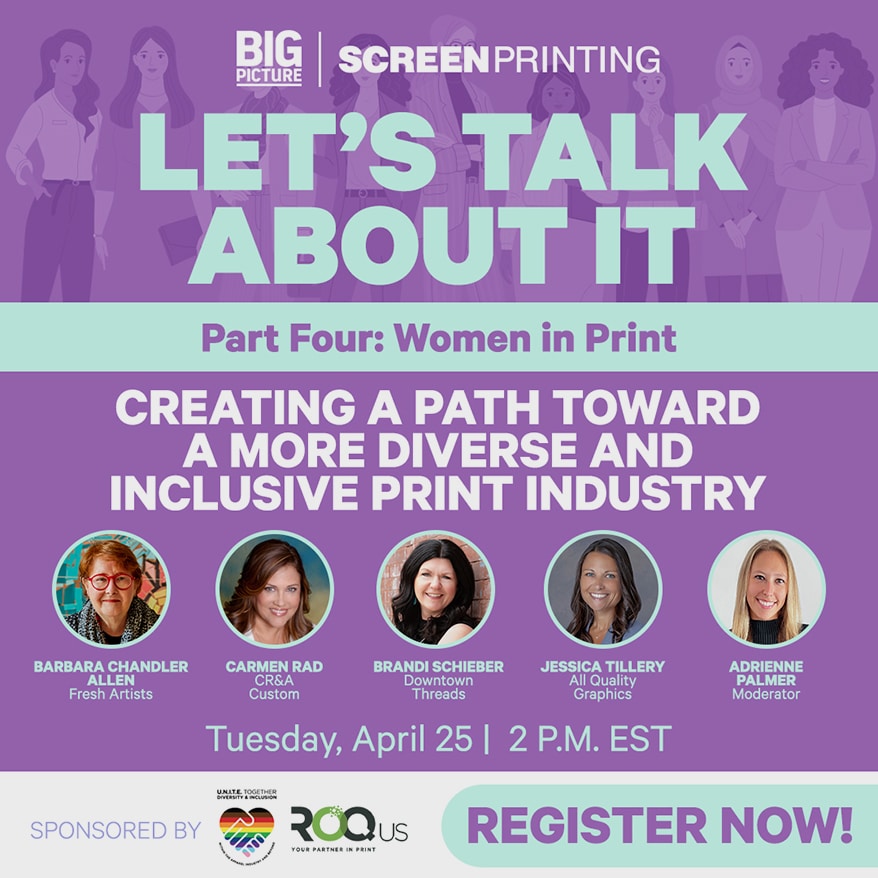 What steps can we take as an industry to accelerate diversification? What can you do in your own business?
For the answers to these questions and more, join us Tuesday, April 25 at 2 p.m. EST for the latest installment of "Let's Talk About It," a webinar series focused on creating a path toward a more diverse and inclusive industry. Hosted by Adrienne Palmer, editor-in-chief of Big Picture and Screen Printing magazines, the fourth edition of the webinar will bring together four female leaders in the wide-format digital printing and screen printing industries. Among other topics, the women will discuss the challenges they've faced; what diversity and inclusion in the print space means to them; and how winning the Women in Wide Format and Women in Screen Printing Awards has as affected their businesses
Hosted by ROQ.US and U.N.I.T.E Together, this is a live, virtual event, so bring your questions and comments.
Speakers:
Advertisement
SPONSORED VIDEO
Let's Talk About It
Creating a More Diverse and Inclusive Screen Printing Industry
LET'S TALK About It: Part 3 discusses how four screen printers have employed people with disabilities, why you should consider doing the same, the resources that are available, and more. Watch the live webinar, held August 16, moderated by Adrienne Palmer, editor-in-chief, Screen Printing magazine, with panelists Ali Banholzer, Amber Massey, Ryan Moor, and Jed Seifert. The multi-part series is hosted exclusively by ROQ.US and U.N.I.T.E Together. Let's Talk About It: Part 1 focused on Black, female screen printers and can be watched here; Part 2 focused on the LGBTQ+ community and can be watched here.