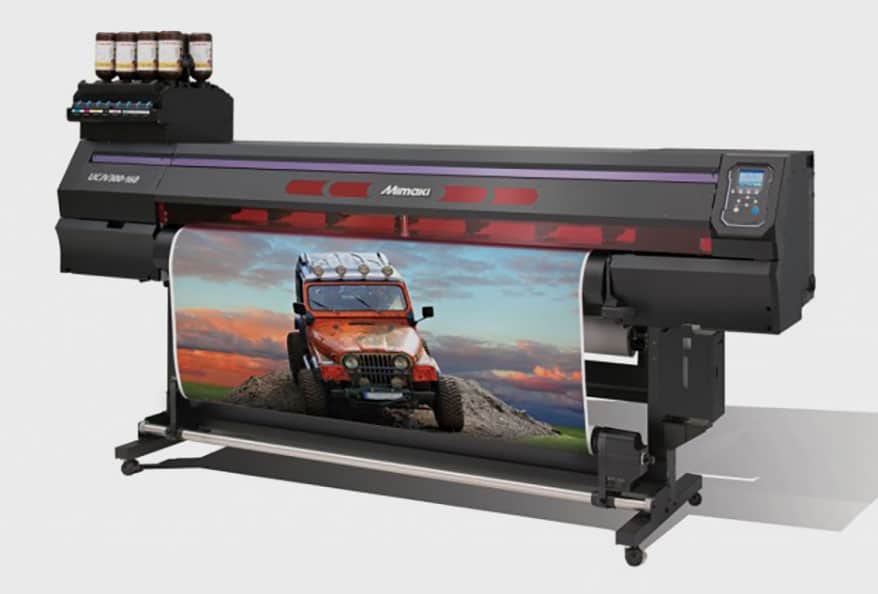 Mimaki Adds 64-Inch UV Printer/Cutters
Four-layer printing, white ink, and more offered with UCJV Series.
Mimaki has released the UCJV Series of UV LED cut-and-print devices, offered in two models: the 4-color UCJV150-160 and 7-color UCJV300-160. Both 64-in. printers offer inline cutting and RasterLink6 RIP software. Applications include decals, window clings, floor graphics, P-O-P displays, packaging, and more.
The UCJV300-160 offers four-layer printing with a combination of white and color inks, designed for backlit, double-sided, and high-opacity applications. The machine offers two piezo printheads and max. printing speed of 278 sq ft/hr.
The UCJV150-160 offers one printhead with printing speeds up to 169 sq ft/hr.
Both machines include max. resolution of 1200 dpi and are compatible with Mimaki's LUS-170 ink series. Both enable the user to pre-cut the substrate before printing, preventing issues such as post-cut delamination, and require no drying time or outgassing before proceeding with additional finishing steps.
Additional series features include Mimaki Advanced Pass System 4, variable dot printing, waveform control, Mimaki Circulation Technology, a nozzle check unit and recovery system, and more. The cutter offers half cuts, over cuts, continuous cutting, and segment cutting.
POST CATEGORIES
MANUFACTURER: Mimaki
PRODUCT CATEGORY: Graphics Printing