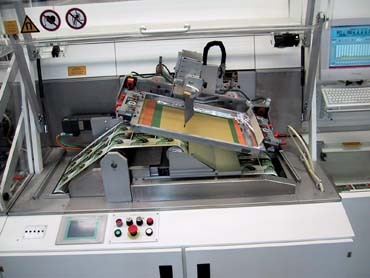 When I was younger, I once bought a wonderful piece of audio equipment. It was a unit that could play vinyl records and cassettes and had a radio, all in one. And it was portable. But after purchasing this unit, I found that none of the functions was optimized, and when any one feature broke down, the whole system was totally paralyzed. Buying a press that does everything could put you in the same situation. In many cases, having one press dedicated to a particular type of application may make a lot of sense. This is particularly true in label printing.

When I was younger, I once bought a wonderful piece of audio equipment. It was a unit that could play vinyl records and cassettes and had a radio, all in one. And it was portable. But after purchasing this unit, I found that none of the functions was optimized, and when any one feature broke down, the whole system was totally paralyzed. Buying a press that does everything could put you in the same situation. In many cases, having one press dedicated to a particular type of application may make a lot of sense. This is particularly true in label printing. There are three general categories of label printers: those who print labels for containers, those who print overlays and nameplates, and those who print on fabrics. Offset, flexo, and screen-printing technologies are available for all three, and digital printing is gaining some ground in these applications as well. Flexo is most commonly used for container labels, and screen printing generally is the process of choice for those who print overlays, nameplates, and fabrics. Each printing process retains its own benefits to justify its existence in label printing. With the latest technological developments in terms of print quality and speed, flexo is getting closer to offset. Also, new technology allows the printer to have one press to do all three printing processes: offset, flexo, and screen. So why would a label printer buy a press that only does screen? Besides the potential loss of the entire all-in-one press line when one part goes down, changing from one process to another can be very time consuming and cumbersome on some equipment. Additionally, the speed at which you can print is related to the printing process selected on the press. So, for example, if you use the press's screen mode, you cannot benefit from the speed offered by the offset mode. The type of work being produced will usually dictate which printing process makes the most sense. For example, a shop may be focused on high-end label printing for cosmetics or wine bottles. In such applications, the client generally wants the label to add value and create recognition that gets the product noticed in a crowded market. That's why many wine-label printers in the US have switched from offset to waterless offset, a technology that delivers optimum resolution and definition in printed labels. Transparent substrates for the no-label look have also become increasingly popular. Any lack of opacity in the images printed on such materials are magnified when the labels are applied to clear containers. To achieve the greater opacity from prints produced on these materials, many shops turn to flexo over offset, which gives them both high-resolution printing capabilities and the ability to print a heavier ink deposit. But the greatest levels of opacity can only be achieved through screen printing. This explains why rotary-screen add-ons for flexo web presses also have made inroads in this market. Rotary screen also is frequently employed to produce white base prints that are then overprinted with digital images. The opacity issue also spills over to the graphic overlay and nameplate business. Printers in this market have mostly stayed away from offset and flexo because opaque and durable ink films are so important. The greater substrate thickness often found in overlay and nameplate jobs also tends to restrict this work to screen-printing equipment. Most industrial printers have devoted themselves to sheet-fed screen presses for these applications, and the greatest change in this market has been the migration from solvent-based to UV-curable inks, which now provide opacity and substrate compatibility comparable to solvent formulations. Even though sheet-fed screen presses are what industrial printers in general know best, these presses do not provide for optimum efficiency, especially when multiple colors are involved. Using sheet-fed equipment can cause production costs to skyrocket and push such work to offshore manufacturing operations. But domestic companies can challenge this trend by turning to narrow-web, multicolor, modular screen presses. Modular narrow-web screen presses provide operation efficiency and speed similar to that of rotary screen presses, but they are dedicated screen-printing systems and therefore don't have the potential drawbacks of combination printing systems using multiple printing technologies. The narrow-web screen press can also replace rotary screen printing, a process that label printers often see as costly and technically challenging. And for textiles, a narrow-web screen press can be used for either direct printing on fabric or equipped with an inline thermal-transfer system to apply printed graphics to the final material. These and other capabilities frequently come as a surprise to the many label printers who are not familiar with narrow-web screen presses. Getting to know the narrow-web screen press It takes time to understand and capitalize on the capabilities of the modular narrow-web screen press. However, once a printer is familiar and comfortable with the equipment, the performance capabilities are astonishing. For example, producing multicolor labels (Figure 1) is no problem for the narrow-web screen presses. You can even use UV inks to print such labels efficiently. Many printers are surprised by how little these presses can cost, and those who use them often realize substantial savings in the form of reduced waste and also experience higher quality and consistency among printed parts. Such repeatability is especially important for high-end industrial graphics, such as insert-mold decorations for cell phones (Figure 2), which are formed after they're printed. Screen printers who are not yet comfortable with the idea of using narrow-web presses commonly cite concerns about the long leads required to thread substrates through a web system, registration, dealing with two-sided parts, and printing of clear windows on overlays. It is true that long leads can be costly (especially with polycarbonate and polyester substrates). However, inexpensive paper leads can be spliced to the roll substrate and fed through the system, thus eliminating the need to waste costly materials. In terms of registration, modern narrow-web roll-to-roll presses use electronic registration systems that are extremely accurate and allow printers to avoid the more time-consuming, trial-and-error setups associated with semiautomatic sheet-fed screen presses. Many narrow-web screen presses also can be set up to do two-sided parts without scratching the part and to accommodate imaging of windows on graphic overlays. As is the case with any new equipment, practice and experience will eliminate the challenges that come with using the narrow-web screen press. Modular narrow-web screen presses can be mated with a variety of drying systems; however, using these presses with UV inks and curing systems allows printers to realize the full capabilities of the technology. On narrow web presses, parts have to be organized to fit within a maximum print width of approximately 13.375 in. (340 mm). While this may limit the number of images that can be ganged together across the substrate's width, the speed of these machines still makes them ideal for higher-volume production runs up to 10,000 pieces or more. Narrow-web presses fit in the niche between the inkjet printer for prototypes and the wide-web roll-to-roll press for long runs. Yes, there are screens to prepare, but they are cheap, represent no more of a problem than preparing plates for flexo or offset printing, and are much easier to process than those used in rotary screen presses.
Sources for Roll-to-Roll Narrow-Web Screen Presses
Fineline
90 13th Ave., Ste. 8
Ronkonkoma, NY 11779
Phone: 631-588-2700
Fax: 631-588-3097
Web: www.digitalscreenprinting.com

Interchange Equipment, Inc.
90 Dayton Ave.
Passaic, NJ 07055
Phone: 973-473-5005
Fax: 973-473-4485
Web: www.interchangecorp.com

Kammann Machines, Inc.
1900 E. Tyler Rd., Ste. 100
St. Charles, IL 60174
Phone: 630-513-8091
Fax: 630-377-7759
Web: www.kammann machines.com

Preco Industries
9705 Commerce Pkwy.
Lenexa, KS 66219
Phone: 913-541-0066
Fax: 913-541-9088
Web: www.precoindustries.com

Rolt Marketing Ltd.
Unit 7
Court Farm Industrial Estate
Bishops Frome, Worcestershire
WR6 5AY
United Kingdom
Phone: +44-01885-490345
Fax: +44-01885-490759
Web: www.rolt.co.uk
Modular narrow-web screen presses can easily reach speeds of 4000 impressions/hr and run for hours on end with only one press operator. Because of their modular configuration, these presses also give the label printer versatility to complement screen printing with other imaging processes and finishing capabilities—diecutting, laminating, slitting/ rewinding, and even cold-foil stamping. The machines enable the printer to use a wider variety of substrates, from paper to polycarbonates to print-treated polyesters, thus increasing the diversity of potential customers they can serve. Most of all, these narrow-web presses enable the screen printer to combine a high mesh count for fine details and a low mesh count to increase ink-film thickness and the opacity of the label. Screen modules can also be used to apply adhesives and, as mentioned previously, white-ink backgrounds that can be overprinted digitally. One application area where narrow-web screen presses are proving ideal is in the printing of conductive materials, namely UV-curable conductive inks and electroluminescent compounds. With these materials, the presses can be used to produce flexible circuits, membrane switches (Figure 3), electroluminescent lamps, and other items quickly and efficiently. The process may require as many as six passes of different inks, but the beauty of modular narrow-web presses is that you can quite simply combine six compact modules in a row to accommodate a job. The all UV workflow enhances the speed and efficiency with which such jobs can be turned around. Yes, sheet-fed screen presses are useful for laying down white base coats and for depositing metallics and other inks containing coarse pigments or particles. But with emerging digital technologies beginning to target industrial applications, the performance of the narrow-web roll-to-roll screen press plays an important role keeping screen printing competitive. Added value, low labor cost, efficiency of operation, and versatility are but a few of the many benefits this technology brings to the table. Whether you want to produce durable decals, radio-frequency ID tags, tamper-proof container labels, or gas-pump keypads, narrow-web screen-printing technology is worth a second look. About the author Alan Carey has been involved in the printing and ink industries for more than 20 years. His background includes extensive experience with UV, metallic, and a variety of specialty inks. He represents Nor-Cote Int'l, Crawfordsville, IN, in technical sales.