Ron Augelli
WeTalkShirty.com
Owner/Founder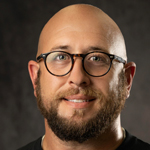 Decisive, driven, and dedicated, Ron Augelli is the innovative owner and founder of WeTalkShirty.com. A native of Northeastern Pennsylvania, Ron is a veteran of the United States Navy and a graduate of Misericordia University. His charisma and ambition motivated him to begin his business venture while still in college. He has worked tirelessly to take WeTalkShirty.com from its humble beginnings to its current and continually expanding state. Ron specializes in contract and custom screen printing in the apparel decorating industry. When Ron isn't at Talk shirty to me, he is training other shops across the country improving their process. Ron is a 2019 Screen Printing Rising Stars Award winner.
SPONSORED VIDEO
Watch Jay Busselle, Adrienne Palmer, and Jeremy Picker dive deep into DTG printing data, popular styles, and opportunities.
Apparel Decoration Trends for 2021 Part Two
Jay Busselle, marketing director, Equipment Zone, interviews two experts in apparel decoration trends: Adrienne Palmer, editor-in-chief of Screen Printing magazine, and Jeremy Picker, creative director and CEO of AMB3R Creative and Screen Printing Editorial Advisory Board member. Both share their insights on decoration trends, apparel styles, and some powerful data for DTG printing. Plus, Picker gives an exclusive look at his 2021 trend report. This is a follow-up webinar to Equipment Zone's DTG Training Academy virtual event.