Ron Augelli
WeTalkShirty.com
Owner/Founder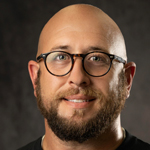 Decisive, driven, and dedicated, Ron Augelli is the innovative owner and founder of WeTalkShirty.com. A native of Northeastern Pennsylvania, Ron is a veteran of the United States Navy and a graduate of Misericordia University. His charisma and ambition motivated him to begin his business venture while still in college. He has worked tirelessly to take WeTalkShirty.com from its humble beginnings to its current and continually expanding state. Ron specializes in contract and custom screen printing in the apparel decorating industry. When Ron isn't at Talk shirty to me, he is training other shops across the country improving their process. Ron is a 2019 Screen Printing Rising Stars Award winner.
SPONSORED VIDEO
Let's Talk About It
Creating a More Diverse and Inclusive Screen Printing Industry
LET'S TALK About It: Part 3 discusses how four screen printers have employed people with disabilities, why you should consider doing the same, the resources that are available, and more. Watch the live webinar, held August 16, moderated by Adrienne Palmer, editor-in-chief, Screen Printing magazine, with panelists Ali Banholzer, Amber Massey, Ryan Moor, and Jed Seifert. The multi-part series is hosted exclusively by ROQ.US and U.N.I.T.E Together. Let's Talk About It: Part 1 focused on Black, female screen printers and can be watched here; Part 2 focused on the LGBTQ+ community and can be watched here.