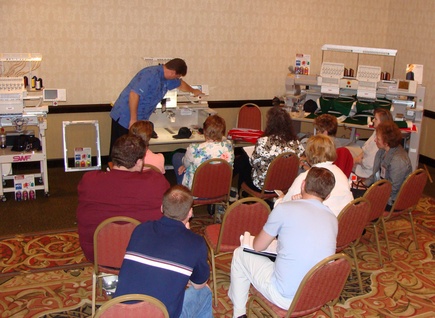 SWF East will host its Embroidery Extravaganza and Direct to Garment Showcase 2008 in Philadelphia, PA, on November 14-15. It features educational programs, updates on equipment and supplies, and more. Demos will be conducted on embroidery machines, software, hooping, direct-to-garment digital printing, and automatic rhinestone equipment.
The Embroidery Extravaganza starts at 10 a.m., and two free seminars start at 8:30 a.m. each day. Day one is How to Start Your Apparel Decorating Business and Realize Your Dream, which targets start-up shops. Day two is How to Market Your Apparel Decorating Business, targeting existing shops. Other programs include How to Find Products and Vendors for a Successful Apparel Decorating Business, How to Identify Growth Markets for Your Apparel Decorating Business, Beginner CorelDRAW Training, Advanced CorelDRAW Training, How To Sell More Decorated Apparel, and How To Sell Decorated Apparel to Sports Teams. Advanced classes also are offered to SWF and DTG customers only for an additional cost of $25. They include DTG Machine Maintenance, SWF Machine Maintenance, and Advanced Digitizing.
Participating suppliers include SWF East, M&R Equipment, Stahls' ID Direct, Colman & Co., Bomark Sportswear, Custom Leasing, Dakota Collectibles, Fast Frames, Garment Graphics Network, HoopMaster, National Network of Embroidery Professionals, Sierra, ProTowels, and DTG Printers. All attendees receive a buffet deli-style lunch that will be available from noon to 1 p.m. each day that is included in the admission price.
The event is being held at the Crown Plaza Mainline, 4100 Presidential Blvd., Philadelphia, PA. Check the Web site for updated information on the location and hotel registration. Visitors may register on site, by phone, fax, or online. Visit www.embroideryextravaganza.com for conference information and to sign up for advance courses.