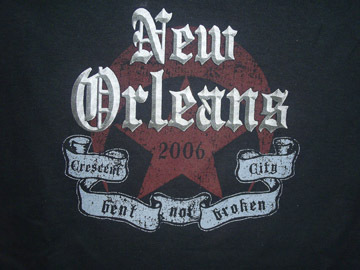 The cancellation of SGIA's 2005 Expo in New Orleans, LA, didn't stop a fund-raising effort to support the New Orleans Musicians' Clinic, a not-for-profit occupational medicine and wellness partnership that offers comprehensive health care to the city's musicians. In fact, Rick Roth, president of Pawtucket, RI-based Mirror Image, Inc., says the project, which is fueled by sales of screen-printed T-shirts, has raised $35,000 to date.
Roth planned to print the shirts on the show floor at SGIA 2005, but Hurricane Katrina forced the event's cancellation. Instead, Roth printed those shirts at his facility. An updated version of the design was printed at this year's SGIA Expo in Las Vegas, NV. "We used a high-density solver ink to give the appearance of metal on the shirt," Roth says, adding that a "generous donation from Hanes" helped make the fund raiser possible.
A second design, featuring a Las Vegas theme, also was printed at the most recent show. Shirts sold for $5 each. Shirt's from the previous fund drive were sold throughout the year by individuals and companies such as Olec and Tower Records. "SGIA members has been the largest donor to the New Orleans Musicians' Clinic," Roth says. For more information, contact New Orleans Musicians' Clinic, 3600 Prytania St., Ste. 35, New Orleans, LA 70115, 504-895-5748, Web: www.neworleansmusicians.org.
Roth's Mirror Image also printed official Farm Aid fund-raising shirts—the 12th consecutvie year his shop has handled the job. Mirror image printed 15,000 organic-cotton T-shirts in eight designs. Roth says Barry Chouinard Inc. make a "sizeable" donation. American Apparel also made a contribution. Farm Aid was formed to increase public awareness about family farmers. The organization has raised $27 million since its first concert in 1985. T-shirts are available for sale on Farm Aid's Website, www.farmaid.org.