6 Steps to Maximizing Your Shop Floor
If your space is limited, these strategies are for you.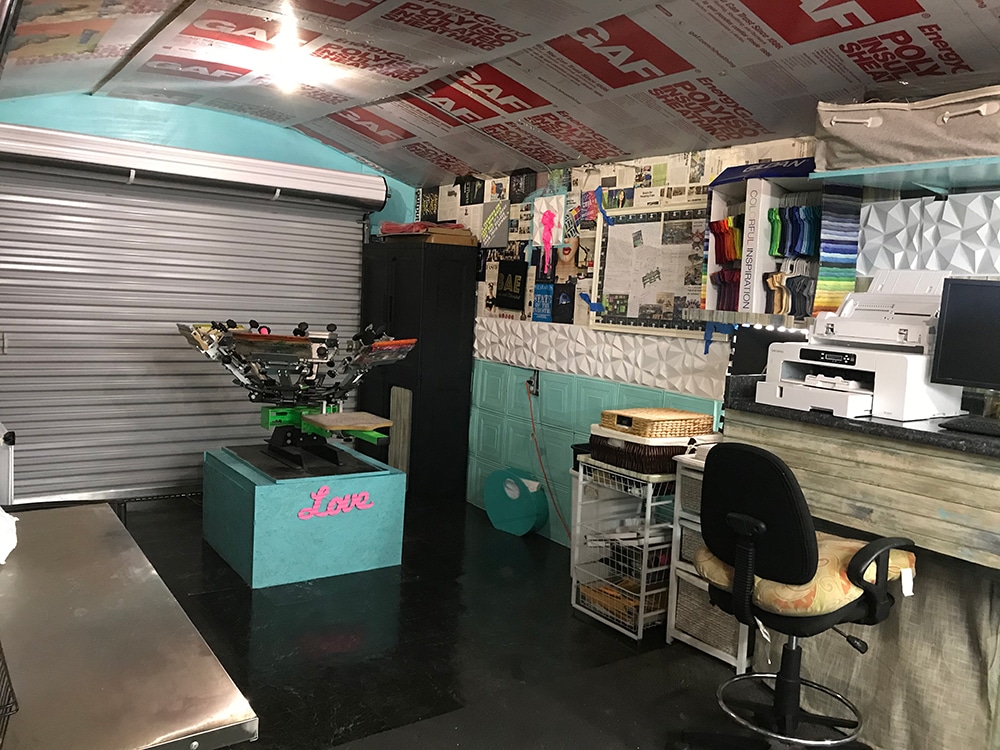 THE FIRST OF THE year is a perfect time for new beginnings and new projects. What better way to start fresh than by setting up or reorganizing your printing workspace?
As a solopreneur working out of a 12 x 24-foot workshop, I realize each square inch of space is precious real estate and must be used efficiently to maximize productivity. However, whether you're setting up your first print shop in your garage or moving into your new 12,000-square-foot commercial building, you'll find the size of your workspace isn't nearly as important as how you use that space.
In recently reorganizing my workshop, I have compiled some simple tips for maximizing your printing workspace in 2023.
Identify Your Pareto. The Pareto Principle, or the 80/20 rule, states that 80 percent of your output comes from 20 percent of your input. In my case, heat press printing takes up roughly 20 percent of my workshop space while accounting for 80 percent of my orders. Use the 80/20 rule to identify your most productive print method. Ask yourself, "What decoration process accounts for 80 percent of my shop's workflow?" and then build your shop's layout around that principal piece of information.
Assess Your Workflow. Once you identify your Pareto printing method, break down your workflow from start to finish using that method. Think about the route a T-shirt takes from entering your shop blank to leaving your shop decorated. Listing all steps involved in sequential order allows you to create a simple shop layout and organize your workspace for efficiency. Have you seen the movie "The Founder?" If not, I highly recommend it. It chronicles the success of the McDonald's fast-food chain. In the movie, there's a scene where the McDonald brothers draw out their restaurant layout on a tennis court and have their employees cook imaginary burgers and fries. The brothers change the workflow several times until they have a "machine of efficiency." This scene inspired me to pick apart my own shop layout and reorganize my equipment, so I was working smarter, not harder.

Group Your Equipment. Tools, equipment, and supplies that carry out a similar function or decoration method should be placed in close proximity of one another. You should not have to walk from one end of your shop to the other to carry out a decoration process. In my shop, the computer, vinyl cutter, and heat press are a maximum of 24 inches away from each other. With this setup I can cut vinyl, weed it, and apply it all in the same space without having to exert too much energy moving about the shop.

Use Clear or Transparent Storage Systems. As you continue to grow your business and the orders keep coming in, you will amass tons of supplies. High visibility of these supplies is very important, as it will ensure you can get to them with ease. In my workshop, I use clear storage bins for a majority of my supplies, like specialty foils and extra T-shirts. I also use translucent cubicles for storing extra screen-printed transfers.
Label and Track Recurring Inventory. Repeat customers are essential to all business, therefore it's a good practice to label and track inventory associated with customers you deal with on a regular basis. The screen-printed transfers I store in the translucent cubicles are labeled with a QR code tag that lets me know exactly what job is in which cube. QR code packing labels are easy to use and allow you to store information like the job name, number of transfers, and cubicle location.
Reset Weekly if Possible. Our work can get very messy very quickly. Between the plastisol, spray adhesive, sublimation ink, and transfer paper, our workspace will need to be cleaned and reorganized on a regular basis. Try to make it a rule of thumb to reset your workspace at least once a week. I usually choose Sunday afternoons to take an hour or two to clean up my workshop to prepare for the following week's work. Restarting your workweek in a clean space gives you mental clarity while cutting down on unnecessary stain errors.
Of course, every print shop is different, and you must set up and organize your workspace in a way that caters to you, but hopefully these tips are helpful for you in 2023. Happy organizing!
Advertisement
PHOTO GALLERY
(6 IMAGES)
SPONSORED VIDEO
Let's Talk About It
Creating a More Diverse and Inclusive Screen Printing Industry
LET'S TALK About It: Part 3 discusses how four screen printers have employed people with disabilities, why you should consider doing the same, the resources that are available, and more. Watch the live webinar, held August 16, moderated by Adrienne Palmer, editor-in-chief, Screen Printing magazine, with panelists Ali Banholzer, Amber Massey, Ryan Moor, and Jed Seifert. The multi-part series is hosted exclusively by ROQ.US and U.N.I.T.E Together. Let's Talk About It: Part 1 focused on Black, female screen printers and can be watched here; Part 2 focused on the LGBTQ+ community and can be watched here.