Owner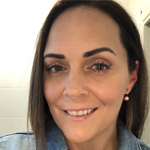 Jodi Taylor is an experienced screen printing business owner for 15 years in Australia. PSI Screenprinting has a passionate team of 25 and run two ROQ auto's, a M&R manual press, and a Rapid Tag printer. Jodi is a believer in building relationships with clients, suppliers, and helping her team succeed in their careers and lives. She has foundational skills and abilities in leadership, management, screen printing, sales and finances. She has a strong desire to help people grow and succeed in business, and grow as an individual and develop their professional skills. She has a busy, full life with her husband, Joel, her two kids who are now teenagers and a small hobby farm in northern NSW in Australia. Jodi is a 2020 Women in Screen Printing Award winner.
SPONSORED VIDEO
Watch Jay Busselle, Adrienne Palmer, and Jeremy Picker dive deep into DTG printing data, popular styles, and opportunities.
Apparel Decoration Trends for 2021 Part Two
Jay Busselle, marketing director, Equipment Zone, interviews two experts in apparel decoration trends: Adrienne Palmer, editor-in-chief of Screen Printing magazine, and Jeremy Picker, creative director and CEO of AMB3R Creative and Screen Printing Editorial Advisory Board member. Both share their insights on decoration trends, apparel styles, and some powerful data for DTG printing. Plus, Picker gives an exclusive look at his 2021 trend report. This is a follow-up webinar to Equipment Zone's DTG Training Academy virtual event.